Ingredients:
For Fish:
2 cups buttermilk
2 to 3 dashes hot sauce
1 cup flour
1/2 tablespoon baking powder
1/4 teaspoon cayenne pepper
1/2 teaspoon salt
1 teaspoon garlic powder
11/2 pounds cod or halibut or other firm, flaky white fish
For Potato Chips:
3 Yukon gold potatoes, unpeeled
vegetable oil, for frying
Kosher salt and freshly ground pepper
 For the Tartar Sauce:
1/2 cup mayonnaise
2 tablespoons chopped dill pickle
1 tablespoon fresh lemon juice
1 tablespoon capers
1 teaspoon Dijon mustard
1 tablespoons finely chopped parsley
salt & pepper to taste
Directions:
1- Whisk together all of the tartar sauce ingredients in a food processor and pulse several times until all the ingredients are well incorporated but not pureed. Cover and refrigerate until ready to serve.
2- Cut fish into 4-5 ounce portions.
3- In a large shallow container combine flour, baking powder, cayenne pepper, salt and garlic. Set it aside.
4- Pour the buttermilk into a bowl and add few drops of Tabasco sauce, Mix well. Add the fish fillets and turn to coat all sides. Cover dish with plastic wrap and refrigerate for 30 minutes.
5- Pull the fish out of the batter, let the excess batter run back into the bowl. Gently roll each piece in flour mixture to coat. Set aside on a plate ready to fry right after the potato chips.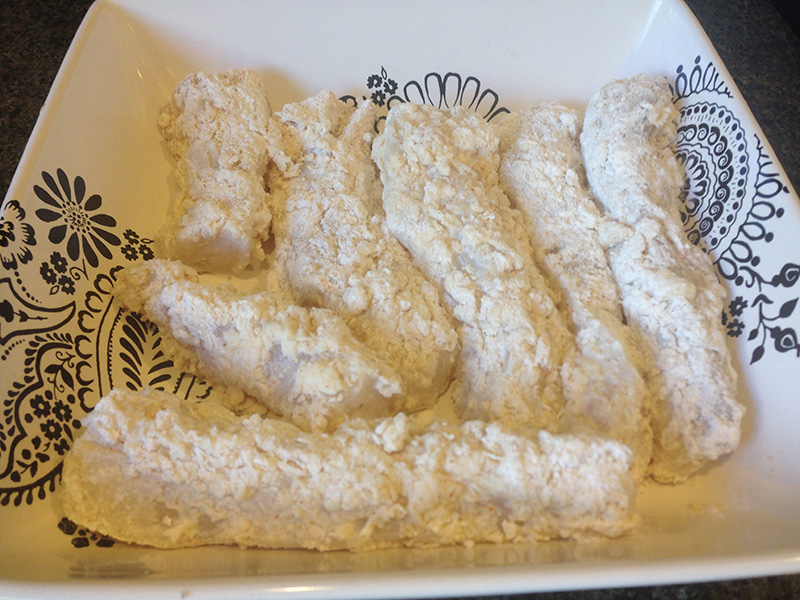 6- Finely slice the potatoes into chips using food processor, mandoline or just slice by hand with a good chef's knife. Drop the potato chips into a bowl of ice water. Soaking them helps to remove the excess starch and also is the key for the potatoes chips to be crispy. Soak for 30 minutes.
7- Drain the potato slices and dry them thoroughly with paper towels.

8- In a deep heavy saucepan, heat about 2 inch of vegetable oil to 350 degrees F.
9- Fry the potato slices in batches until golden brown, about 2 to 3 minutes. Drain on paper towels, season with salt. Keep warm in a 200° oven.
10- When the potatoes are done frying. Take the fish out of the fridge. One piece at a time, place them in the same hot oil; cook until crispy and golden, 2 to 4 minutes per side.
11- Keep warm in a 200° oven while you fry remaining fish.
12- Serve on a platter or wrapped in a newspaper cone with vinegar or tartar sauce. If using newspaper cone make sure to place a white parchment like wrapping paper completely wrapped in newspaper.
---
'm a mother, daughter, mother-in-law and wife, who likes to create things as often as possible. Creating recipes, doing makeover recipes, creating simple and easy centerpiece, creating web design, logos, fliers and so on … I use my blog to share with you my recipes that I went through a lot of trial cooking before I came up with the extreme makeover dish that is healthy and tasty.
To change this standard text, you have to enter some information about your self in the
Dashboard
->
Users
->
Your Profile
box.
Read more from this author
---