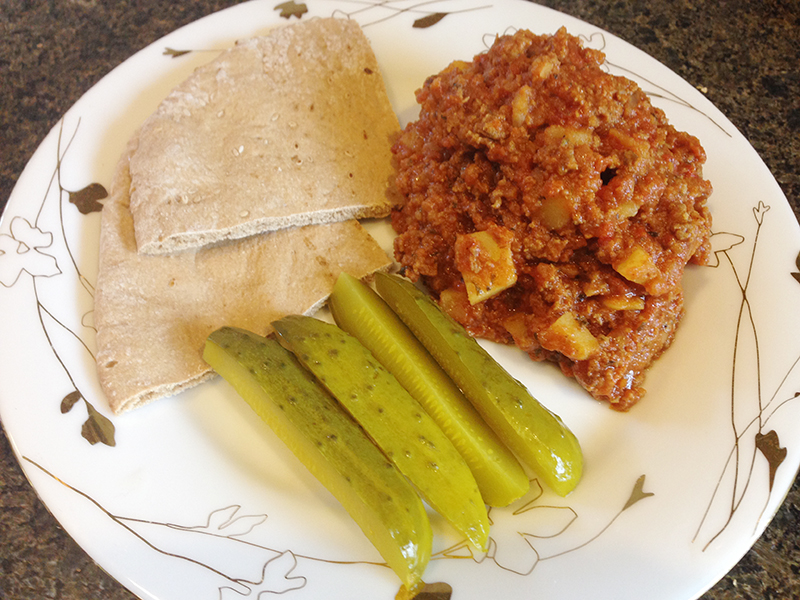 This is a light and flavorful dish that is easy and quick to make. It is one of my to-go dishes for when I don't have time but want to make something decent for dinner.
You can serve this on rice,  or have it with hot wheat pita bread.
Ingredients:
1 medium onion, chopped
3 cloves garlic, chopped
5 medium size red potatoes peeled and cut into cubes
2 tbsp tomato paste
2 cups finely diced fresh tomatoes
1.5 lbs ground beef
1/4 tsp turmeric
1/4 tsp red pepper flakes (optional)
salt & pepper to taste
Directions:
1- Add the onion, garlic and the potatoes to a saucepan with all the spices. Saute them to release the aromas and natural oils to enhance the flavor. You do not need any oil, the moisture in the onion and potatoes help in this process.
2- Add the meat to the mixture and saute them for about two to three minutes more until well brown.
3- Add the diced tomatoes and tomato paste and mix well.  Turn the heat down and simmer it for about 30 – 40 minutes. I just let the whole thing simmer to reduce the liquid and make the dish thicker.
---
'm a mother, daughter, mother-in-law and wife, who likes to create things as often as possible. Creating recipes, doing makeover recipes, creating simple and easy centerpiece, creating web design, logos, fliers and so on … I use my blog to share with you my recipes that I went through a lot of trial cooking before I came up with the extreme makeover dish that is healthy and tasty.
To change this standard text, you have to enter some information about your self in the
Dashboard
->
Users
->
Your Profile
box.
Read more from this author
---