This lasagna is a simple and easy dinner recipe for your picky families!  Each lasagna noodle is layered with a filing that satisfies the diet and taste of your families.  You can make one  with meat sauce, another with vegetable fillings, and another one with just cheese or no cheese just tomato sauce. The fun part is that you can cook them all in the same casserole dish.
You can make a huge platter and freeze it for a later date. Do not add the cheese to the lasagna if freezing .
Tips on tomato sauce: I prepare the tomato sauce on weekends when I have a little more time. This is an easy and quick to prepare sauce which is excellent
You could use a jar of spaghetti sauce for a faster and simpler recipe.
Ingredients for Fillings:
8 whole lasagna noodles
One cup chopped onion
4 tsp. chopped garlic
8 oz. lg. mushrooms, wiped clean & sliced
1 pound ground beef
2 cups shredded mozzarella cheese
2-2 1/2 teaspoons Parmesan cheese
Ingredients for Tomato Sauce:
3 tablespoons olive oil
1 large onion
4-5 cloves garlic
1 (28 ounce) can of peeled tomato
1(28 ounce) can of tomato with basil and garlic
I (6 ounce) can of tomato paste
1 tablespoon sugar
1 bay leave
1/4 teaspoon Basil
1/4 teaspoon Oregano
1/2 teaspoon paprika
1/2 teaspoon crushed red pepper flakes
1 cup of milk (optional if it is too thick)
salt and black pepper
Direction:
Combine olive oil, onion and garlic in a large deep skillet and saute lightly. Stir in tomatoes, bay leave, salt, black pepper, red pepper flakes, paprika and sugar to the pot. Cook over medium-low heat, stirring occasionally, for about 2 hours. Add the tomato paste, milk (if it is too thick), basil and oregano to the sauce and simmer for another 30 minutes.
Cook lasagna noodles in plenty of boiling salted water until al dente, about 12 minutes; drain. Let noodles sit in bowl of cool water until ready to use.
Cooking Directions for Vegetarian:
Combine ½ cup chopped onion, 2 tsp. chopped garlic and mushroom in a large frying pan and saute lightly. Stir in 3 tablespoon of tomato sauce. Simmer covered for 15 minutes. Set it aside.
Directions for Meat Eaters:
Combine ½ cup chopped onion, 2 tsp. chopped garlic, ground beef, salt and pepper to a large pan and saute them until they start to brown. Stir in 1/2 cup of tomato sauce and simmer covered for 20 minutes. Set it aside.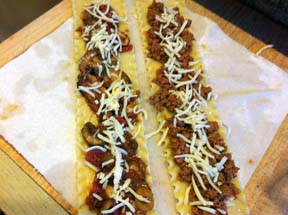 Take a shallow 4 quart baking dish. Spoon about 2 cups of the tomato sauce over the bottom of the dish. Take one lasagna noodle from the water and add 3 tablespoons of the mushroom mixture and sprinkle of mozzarella cheese along the full length then roll it up and turn it on its end and place it in the baking dish. Repeat this with as much vegetarian lasagna you needed and place them next to each other. Place one piece of mushroom on top of each roll to be able to know which one is vegetarian.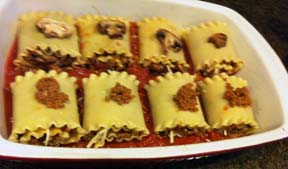 Repeat this with the meat sauce mixture. Make sure you place them next to each other and add a little meat sauce on them of each to distinguish which is which. Spoon the remaining tomato sauce over roll-ups.
Cover the lasagna pan with foil and bake in preheated oven at 350 degrees for one hour. Remove foil, sprinkle with mozzarella and Parmesan cheese on top and bake uncovered for another 5-10 minutes or until cheese melts and top is lightly browned.Let stand 5 minutes. Serve it!
---
'm a mother, daughter, mother-in-law and wife, who likes to create things as often as possible. Creating recipes, doing makeover recipes, creating simple and easy centerpiece, creating web design, logos, fliers and so on … I use my blog to share with you my recipes that I went through a lot of trial cooking before I came up with the extreme makeover dish that is healthy and tasty.
To change this standard text, you have to enter some information about your self in the
Dashboard
->
Users
->
Your Profile
box.
Read more from this author
---