Adding avocados to pesto creates a healthy and creamy texture without using any oil.
Don't be afraid to substitute ingredients.You can substitute walnuts with nuts like pecans or almonds. You can also substitute cilantro or spinach for basil as well.
Serve with pasta, over grilled chicken breast, spread over sandwich or use it on pizza dough.
Ingredients:
1 pound pasta of your choice ( for Gluten-Free diet  and Vegan style check the label, for Paleo Style simply use the spaghetti squash instead of pasta)
2 garlic cloves, peeled
3 cups fresh basil leaves
1 bundle of basil stalks, stripped of their leaves (optional)
2 avocados, pitted and peeled
1/2 cup walnuts
2 tablespoons lemon juice
salt and pepper to taste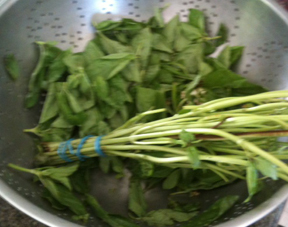 Directions:
Add the garlic, avocado, basil, walnuts, lemon juice, salt and pepper to the food processor and pulse until the ingredients are smooth and creamy.
Bring large pot of water to a boil on high heat.  Add pasta of your choice and the basil stalks that have been stripped of their leaves and bundled together to the pot to add flavor (this is optional).  Cook for 7-8 minutes or until pasta is tender. Just before draining the pasta into a colander, remove 1 cup of pasta water; set aside. Drain the pasta, carefully remove the basil stalks, move the pasta to the bowl quickly. Stir in the pesto and toss.  The sauce should be evenly distributed with the pasta.  Add the pasta water  if your sauce seems too thick or dry.
---
'm a mother, daughter, mother-in-law and wife, who likes to create things as often as possible. Creating recipes, doing makeover recipes, creating simple and easy centerpiece, creating web design, logos, fliers and so on … I use my blog to share with you my recipes that I went through a lot of trial cooking before I came up with the extreme makeover dish that is healthy and tasty.
To change this standard text, you have to enter some information about your self in the
Dashboard
->
Users
->
Your Profile
box.
Read more from this author
---