This healthy chorizo is made with lean beef and highly-flavored with ancho chili powder, paprika, cumin, garlic powder, onion powder, oregano and coriander with the added tang of vinegar. You have the entire flavor of Mexican chorizo without the extra fat.
They make a tasty addition to many dishes and turn the simplest dish into something special. Just a little bit of it goes a long way to improve a recipe, including omelets, soups, stews, enchiladas, burritos or any other dishes you'd like to have a nice Mexican flavor. The possibilities are endless.
This recipe works wonderfully well with ground pork, chicken and turkey as well.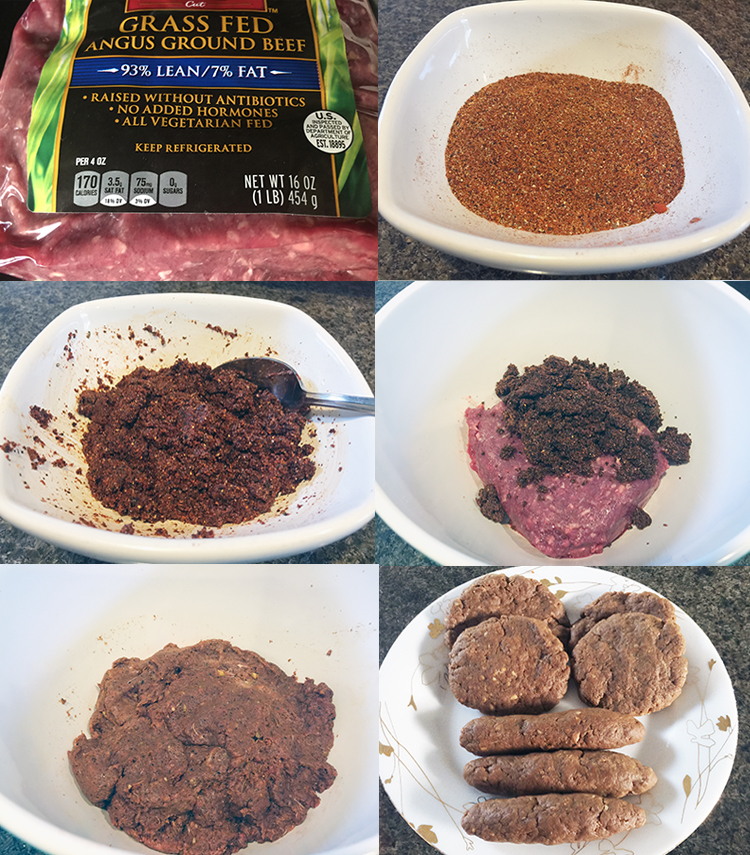 Tips:
– Take a little bit of chorizo meat; cook it and taste to check the seasoning. You can make it spicy or mild to taste. That's what I did when I was experimenting with the flavor ratios for this recipe.
– For gluten free diet, Make sure all your spices are gluten-free.
Ingredients:
1 lb. lean ground grass fed beef
2 tablespoons ancho chili powder
1 tablespoon sweet paprika
1 teaspoon smoked paprika
1 teaspoon ground cumin
1/2 tablespoon garlic powder
1/2 teaspoon onion powder
1/2 teaspoon dried oregano
1 teaspoon ground coriander
1 teaspoon sea salt
1/2 teaspoon black pepper
3 tablespoons cider vinegar
Directions:
1- Add chili powder, sweet paprika, smoked paprika, cumin, garlic powder, onion powder, oregano, coriander, salt and black pepper in a small bowl and stir until well combined. Add the vinegar and stir until a paste forms.
2- Mix the spice paste into the meat. Knead until well incorporated. Cover and marinate in refrigerator overnight to let the flavors develop.
3- Remove from fridge and knead the meat again to thoroughly mix the seasoning in the meat.
4- Cook it up and use in a variety of dishes or divide chorizo meat into small patties or loves and freezes them so they're ready for use when you need them.
5- To cook chorizo, preheat a large non-stick pan to medium/high heat. Lightly spray with cooking oil. Add chorizo, cook stirring and breaking up the meat with a spatula until browned.
---
'm a mother, daughter, mother-in-law and wife, who likes to create things as often as possible. Creating recipes, doing makeover recipes, creating simple and easy centerpiece, creating web design, logos, fliers and so on … I use my blog to share with you my recipes that I went through a lot of trial cooking before I came up with the extreme makeover dish that is healthy and tasty.
To change this standard text, you have to enter some information about your self in the
Dashboard
->
Users
->
Your Profile
box.
Read more from this author
---