plain rice
. This meal makes great left-overs.
For Plaeo style use full fat coconut milk instead of sour cream and serve on top of some spaghetti squash or zucchini noodles.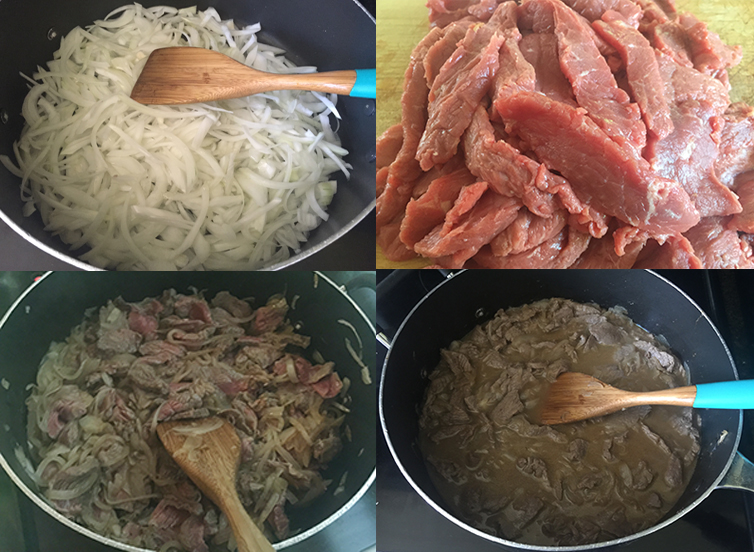 Sauté onion until tender, about 5 minutes. add the beef strips and sauté until well browned about 7-10 minutes. Stir in the sour cream.
Ingredients:
2 tablespoons olive Oil
2 medium onions, thinly sliced
2 pounds beef sirloin steak, cut into thin strips about 1
 inch wide and 2 inches long
Salt & pepper to taste
1/2-teaspoon paprika
1 teaspoon garlic powder
1/2 cup sour cream at room temperature (for Paleo style use full fat coconut milk)
1 tablespoon chopped fresh parsley, for garnish
Directions:
1- Heat 2 tablespoons olive oil in a large pot over medium heat. Add the onion and sauté until tender, about 5 minutes.
2- Increase heat to high; add the beef strips and season with salt, pepper, paprika and garlic powder. Sauté until well browned and almost all liquid is absorbed, about 7-10 minutes.
3- Add 2 cups water. Cover the pot and bring to a boil. Turn the heat down to medium-low and simmer until beef is cooked (about 60 min). stirring occasionally.
4- Stir in the sour cream and cook until heated through and thickened. Do not boil. Adjust seasoning as needed.
5- Serve by itself top with homemade potato fries, over noodles, plain rice or mashed potatoes and sprinkle with chopped parsley.
---
'm a mother, daughter, mother-in-law and wife, who likes to create things as often as possible. Creating recipes, doing makeover recipes, creating simple and easy centerpiece, creating web design, logos, fliers and so on … I use my blog to share with you my recipes that I went through a lot of trial cooking before I came up with the extreme makeover dish that is healthy and tasty.
To change this standard text, you have to enter some information about your self in the
Dashboard
->
Users
->
Your Profile
box.
Read more from this author
---
Beef Stroganoff or beef Stroganov originated in Russia in the 19th century and was named after Count Pavel Stroganov a Russian diplomat and aristocrat. This dish is very popular around the world and there are many possible variations. Traditionally this dish is made with strips of lean beef sautéed with onion served in a sauce with sour cream. In Russia, Beef Stroganoff is usually served with homemade potato fries or over mashed potatoes. In United States they usually add mushrooms to the ingredients and served over egg noodles or