These days everybody talks about quinoa and are wondering, what is quinoa?

Quinoa is the hottest new superfood and one of the world's most perfect foods.  Quinoa is a leafy green vegetable similar to spinach.
Quinoa is one of the most nutrient rich grains around, is a good source of iron (needed to transport oxygen around the body), B vitamins (needed for energy), calcium and magnesium (needed for healthy nervous system function), and vitamin E, a powerful antioxidant. Quinoa releases its carbohydrates into the body very slowly so helps people with diabetes by maintain blood sugar levels. Quinoa is a gluten-free and cholesterol-free whole grain.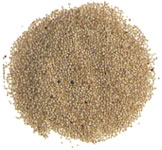 It has all 9 essential amino acids making it a complete protein that are needed to human nutritional function and nutrition. The FAO (U.N. Food and Agriculture Organization) says it is so nutritious it can be substituted for mother's milk.
Note:
Wash quinoa well with cold water, this process help to remove the high levels of sapponin that coats the outside of the seed, and keeps it from being bitter once cooked. Try to use large sieve or a strainer and rinse thoroughly with cold water.
Ingredients:
1 cup chopped onion
2 to 3 medium size red potatoes cut into cubes
1 medium-sized carrots, peeled, halved lengthwise and cut into 1-inch pieces
1/2 med. head cauliflower, cut into florets
1/2 med. head broccoli, cut into florets
1/2 butternut squash, peeled and diced
2 cups chicken broth, 99% fat free or vegetable broth for vegetarian
1/4 teaspoon curry powder
1/4 teaspoon cayenne or other ground red pepper (or to taste)
1 cup quinoa, rinsed
salt/pepper to taste
Directions:
Preheat the oven to 400 degrees. Spread the butternut squash, potatoes, carrots, broccoli, and the cauliflowers on a baking sheet. Spray with Pam olive oil. Sprinkle some salt, pepper and red chili pepper to the vegetables and bake it in the oven for 30 minutes.
Meanwhile, add the onions and garlic to a large saucepan and saute till soften ( do not use any oil). Add the quinoa, broth and curry powder to the pan and stir thoroughly. Reduce heat to low, cook until liquid is absorbed, 12 to 15 minutes. Fluff with a fork.  Take the vegetables out of the oven and add them to the saucepan, add salt to taste. Mix them well and serve it .
---
'm a mother, daughter, mother-in-law and wife, who likes to create things as often as possible. Creating recipes, doing makeover recipes, creating simple and easy centerpiece, creating web design, logos, fliers and so on … I use my blog to share with you my recipes that I went through a lot of trial cooking before I came up with the extreme makeover dish that is healthy and tasty.
To change this standard text, you have to enter some information about your self in the
Dashboard
->
Users
->
Your Profile
box.
Read more from this author
---